My writings will be increasingly related to the benefits of the Carnivore Diet, in relation to health and fitness. However I am still a big advocate for traditional Keto. So I will be promoting and featuring Guests on my blog, to show the benefits of Keto. They will feature on my main blog timeline, however I will showcase them on this page too.
Keto Summit
Keto40 Program: 
Keto40 Program is a 40-day guided program that's designed for people starting out on Keto. It includes meal plans, workouts, daily emails, videos, FB support/community, accountability, and bonuses.

The program starts each Monday. So when folks purchase, they'll be added to the next Monday's start date.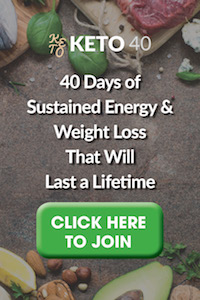 Keto Snacks Cookbook:

A continually updated recipe book for quick and easy Keto snacks.
Blog Post: Top 4 mistakes on the Keto Diet and how to avoid them.
Blog Post: How to successfully meal plan on Keto.
Mesothelioma.net
Blog Post: Keto for Cancer Patients.
Ketogenic Supplement Reviews
Blog post: Expert testimonials.
Blog Post: Exogenous Ketones.